Welcome to the Capital Area Dental Foundation website.
Because oral health is not a luxury, CADF works tirelessly to connect low-income and disabled patients to volunteer dentists in the community.   In 2014, we connected more than 840 patients to dental care and was awarded the Nonprofit of the Year Award in the medium organization category by Greenlights for Nonprofit Success.
Although the services our dentists provide are clinical, the impact of our charitable work goes far beyond the actual dental treatment provided. With your support, CADF can continue to restore health and function, eliminate pain and give back confidence, dignity and hope to the neediest in our community.
Please visit us often sign up for our blog to learn more about what we do and how you can get involved by either volunteering your time or making a financial donation to support our charitable work.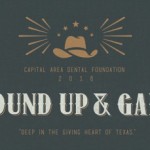 Thank you to those that attended our Round Up & Gala on Saturday, April 16!
Because of YOU, the Capital Area Dental Foundation raised over $180,000 that will be used to transform the lives of hundreds of Central Texans living with dental pain and disease.
A special thank you goes to our incredible Gala Co-Chairs, Amie Nemec, Dr. Benjamin Nemec and Melinda Perrier for a night to remember and to all of our amazing sponsors.
Follow us on Facebook to check out all the photographs.