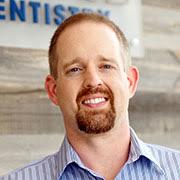 Dr. Max Kerr is the owner of Vista Ridge Family Dentistry in Cedar Park.  In practice for more than 10 years, the graduate of the Texas Health Science Center in San Antonio, was recently nominated for an "Austin under 40" award in the area of health care.
Last year, Dr. Kerr surprised CADF by making a generous gift to our
Amplify Austin
campaign. His gift helped us exceed our fundraising goal and raise much needed funds for charitable dentistry in our community. When we asked Dr. Kerr why he gave, his answer was quite moving:
"I believe the smile is a communication of love and joy from the soul.  When someone cannot smile due to decayed, missing or painful teeth; he or she loses the ability to communicate their unique gift to the world.  This discordance creates a negative self-image that ripples through all aspects of an individual's life.  We all know that it is very difficult to love the people around you if you find it difficult to love yourself.  Through my support of CADF, I wish to ignite a feeling of pride and self-worth to those that need it the most."
Will you join Dr. Kerr on March 2-3 to Keep Austin Smiling? Our goal this year is to raise $10,000 in honor of CADF's monumental 10 year anniversary.  To schedule your gift today, click here.